So your planning a cannabis vacation to Colorado to get away from the job or kids and your needing to find a great place to hang out, sleep and keep your stuff safe.
Now Colorado has a bunch of nice places to stay where you can smoke cannabis, but we are going to point out what we feel are some of the best. So read on and find out what are some of the best 420 friendly places to stay while in Colorado. These are not in order, it is just the way we decided to list them.
#1 – Arrowhead Manor, Morrison
This is one of the best places for the cannabis tourist to stay at. This place is a mansion that has been turned into a Bud and Breakfast. now you cannot smoke inside the house or rooms but they have a big patio with wonderful views of the mountains and Denver way off in the distance.
They serve you an awesome breakfast every morning in the dining room and have some of the best service standards we have seen in a BnB. This big and beautiful mansion boasts eight very well appointed guest rooms for you to rest in. They are as follows,
Signature Suite, 1 King Bed, Jetted Tub, Mountain View
Royal Suite, 1 Bedroom, Jetted Tub, Mountain View
Premier Suite, 1 Bedroom, Hot Tub, Mountain View
Premium Suite, 1 Bedroom, Hot Tub, Mountain View
Deluxe Room, 1 Bedroom, Jetted Tub
Superior Triple Room, 3 Bedrooms, Mountain View (3 Bathrooms)
So if your wanting a upscale experience for your cannabis vacation them The Arrowhead manor is the best choice.
---
#2 – The Cliff House Lodge, Morrison
The Cliff House Lodge 420 friendly accommodation has it all for the traveling cannabis tourist. Each Cottage features a private patio with it's own cozy outdoor hot tub or indoor Jacuzzi. The Camelot cottage features both an indoor Jacuzzi and outdoor hot tub.
Each cabin is decorated in a different theme, from a beautiful Native American theme to ones resembling a hunters cabin. There are patios provided near each Cottage that are designated smoking areas that are secluded in their own tiny area with bushes and trees. You may also smoke in the main lodge as well. The types of rooms available are below,
Hogback, 1 Queen Bed and 1 Double Sofa Bed
Dino, 2 Queen Beds and 2 Double Futons
Honeymoon, 1 Queen Bed
Stone, 1 Queen Bed and 1 Queen Futon
Zen, 1 King Bed
Camelot, 1 King Bed
Canterbury, 1 Queen Bed
Rose, 1 Queen Bed
This is a great place to stay, as it is in the great mountain town of Morrison and the main drag with all the shops, restaurants and bars are within a 5 minute walk of The Cliff house Lodge.
---
#3 – Adagio Bud & Breakfast, Denver
The Adagio is the original Bud and Breakfast that you have seen all over the news and TV. this place is located in the east side of Denver and has been there for many years. The rooms are decently appointed and have a music theme in each one.
They also offer a daily 420 happy hour blaze out and you can get drinks and snacks through out the day. They have a place out back where you can smoke and relax in the garden. the rooms available are as follows,
Deluxe Room (Holst)
Room (Vivaldi)
Suite (Copland)
Room (Handel)
Room (DeBussy)
Suite (Brahms)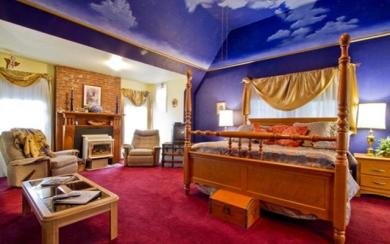 So if your wanting a nice place to stay in Denver then The Adagio Bud and Breakfast is the place for you.
---
#4 – Crowne Plaza, Denver
The Crowne Plaza Denver was one of the very first hotels to be recognized as 420 friendly. Here you can smoke up on the roof and in designated areas and can vape in the rooms with no issues. You can also rent a table top vaporizer from the front desk when booking through one of the local cannabis tours in Denver.
This hotel has over 350 rooms that are all non smoking, so don't try to blaze inside or you will incur a fee. Each room at this hotel is air conditioned and is fitted with a flat-screen TV and a private bathroom. Some units include a seating area to relax in after a busy day, as well as mountain or city views.
This hotel is right downtown and is close to a handful of recreational dispensaries, some of the best restaurants and clubs. The 16th Street Mall is a 5 minute walk away, where you can shop and eat in Americas largest outdoor mall.
So this awesome hotel is a great recommendation to stay at when your vacationing in Denver.
---
#5 – Molly Gibson Lodge, Aspen
The Molly Gibson lodge is a charming place for the cannabis traveler to stay at. This wonderful lodge has some great amenities for you like a pool and hot tub, free shuttle to the airport, complementary breakfast and are also pet friendly. The King Rooms offer you either a wood burning fireplace or jetted Jacuzzi tub, a King Bed, and plenty of space to relax.
The Molly Gibson also offer a wide variety of Summer and winter activities for you also. Hiking, snow skiing, snowmobiles and fishing can be had by visiting the front desk. Now as far as smoking there are designated areas to smoke at so be sure to ask the front desk where you can blaze.
From studios, one bedrooms and even two bedroom apartments they can fit almost any size group. Here is a rundown of the rooms they offer,
Room (Courtyard)
Deluxe Room
Room (Lodge)
Room, 1 King Bed (Molly)
One Bedroom
Two Bedroom
---
So if your wanting to stay in the mountains of Colorado, in one of the most iconic towns then The molly Gibson Lodge in Aspen is a great place for you.
Now like we said in the beginning there are a ton of great cannabis friendly options for you when vacationing in Colorado, and you can find all them here on our site. Just tap the button below to be taken to all of your options. Have a great day and a great vacation to Colorado.
---