Los Angeles is a strong contender for the weed capital of the world. Smoking cannabis recreationally goes back into LA's history almost as far back as you can see. Then, when California legalized recreational weed in 2016, LA confirmed its spot as one of the best cities to get high in.
The intertwined history with West Coast hip-hop, the proliferation of the stickiest strains, and laissez-faire surfer vibes give LA myriad reasons why it's become a pilgrimage site for stoners and other cannabis tourists from all around the world.
Along with Denver, Portland, and Seattle, LA was the place weed culture all started. If you want to understand and appreciate weed, you need to visit (and get high in) Los Angeles.
What is Cannabis Tourism?
Cannabis tourism refers to the practice of encouraging people who want to use marijuana while on vacation to do so. It's also capitalizing on marijuana's fascinating past by offering cannabis tours and educational seminars. Because of the various physical and psychological benefits of medicinal marijuana, an increasing number of vacationers are searching for accommodations that enable them to use it. As a result, the demand for cannabis-friendly hotels and other places to stay has increased.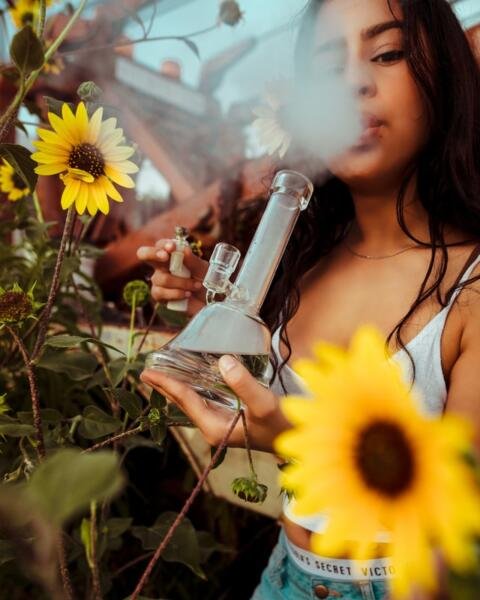 Since the weed is being used by an increasing number of people. When more evidence of marijuana's medicinal benefits grows, those who use it for its therapeutic properties tend to continue to do so while traveling. Others who use cannabis to unwind tend to do so while on holiday as well.
Cannabis for medical purposes is a burgeoning industry, particularly now that it is becoming legal in more and more states across the United States.
Significant changes happened in the middle of the last decade when several states legalized recreational weed. California was right there with the other trailblazers, playing a pivotal role in what is now a massive, multi-billion dollar industry.
LA bursts with dispensaries for recreational weed selling bud, hash, oils, tinctures, edibles, and more. This cornucopia of weed-based products and the culture around it attracts people from all over the world.
It's fair to say Amsterdam formally passed the torch (or is it the roach) to LA sometime around 2016. Now, there are not only dispensaries and cafes but weed events, festivals, and getaway spas.
Why California is the Best Destination for Cannabis Tourism
One out of every five visitors wants to visit an American state that has legalized marijuana. That figure comes from New Frontier Data's 2017 Cannabis Attitudes Survey, a market research company specializing in the cannabis industry. According to their findings, 22% of respondents said they would be more interested in visiting states where recreational marijuana is legal.
People have been smoking weed recreationally in California since the Gold Rush, way back in the 1850s. Even though a 1913 amendment to The Poison Act of 1907 prohibited cannabis possession, this never stopped Californians from getting high. It developed a strong connection with the plant during the 60s and 70s.
Over the years, Californians also developed some of the finest, purest, most potent weed strains. Smoking in LA gives you access to one of the most expansive and highest-quality ranges of weed strains in the world.
LA is indisputably one of the best places to smoke weed on the planet. With a combination of big-city culture with beach-front vibes, LA has something for everyone. Now, you even have access to LA weed tours that take you from legendary dispensary to world-famous munch spot to the beach and back again.
Where to Buy Cannabis Legally in Los Angeles
Buying legal cannabis in LA is as easy as walking into any other store. All you need to do is find a marijuana dispensary in Los Angeles, walk in, take a look at the menu, and pick your product. This doesn't mean it's a free-for-all, though.
It's illegal to drive under the influence of cannabis, and you can't smoke, vape, or consume cannabis in public. You also can't carry cannabis openly in public. Treat it like alcohol, and you should be okay.
As long as you're over 21 with a valid ID, you can buy weed from a dispensary. You can buy up to an ounce of marijuana a day and up to eight 8 grams of edibles and beverages. There are even companies that will deliver weed to you. You can't buy cannabis after 10 pm or before 6 am.
It's now time to locate a licensed dispensary where you can purchase cannabis items. It's important to understand that most dispensaries have been around for a while and are mostly focused on serving the medical marijuana group.
If you're not from California, make sure you just buy what you'll be able to eat before leaving. You can't transport marijuana across state lines because it's not federally legal, even though you're going to another state where it's legal.
Bringing a variety of payment options is a smart idea. Even though many dispensaries accept credit cards, some still prefer cash.
Most Common Cannabis Uses in Los Angeles
In California, both medical and recreational uses of marijuana are legal and there are various ways to use cannabis for these two purposes.
Smoking
The most common way to use cannabis in LA is still the old classic: smoking it. LA dispensaries give you access to some of the strongest, strangest, subtlest strains of Sativa vs Indica that you'll ever set your eyes on.
Hand pipes, water pipes, rolling papers, hookahs, and homemade one-time-use applications are among the devices available to cannabis smokers. Each of these offers a unique experience and has an effect on the amount of smoke inhaled.
Marijuana may also be smoked in a blunt, which is a cigar with the tobacco removed and replaced with marijuana or a combination of tobacco and marijuana.
Vaping
Vaporization is a relatively modern way of smoking marijuana. Vaporizers heat marijuana to a temperature just below combustion. Rather than inhaling toxic smoke, the active ingredients may be inhaled as a vapor.
Oral Ingestion
Marijuana-derived oils can be used in cooking, baking, or simply combining with food to make a range of items that can be consumed orally or in capsule form.
In states where recreational marijuana is legal, vendors are selling marijuana-infused cakes, cookies, gummy bears, cereal, granola bars, and even chewing gum.
Marijuana oil can also be mixed into a variety of drinks. It can be found in a variety of beverages, including teas, sodas, and even beer. Marijuana leaves have been used to make tea for many years. Today's tea, on the other hand, is much more potent.
Marijuana Tinctures
Tinctures are liquids made from marijuana plants that have been infused with an alcohol solution or an alcohol and water solution. A few drops of the solution are placed under the tongue and easily absorbed into the bloodstream.
This form of marijuana is commonly used for medicinal purposes because it is highly concentrated, active, and fast-acting, but it also produces an extreme high.
Topical Methods
Topical oils are extracts from the marijuana plant that is thicker than the oils used in edible products. The oils are placed on the skin and are absorbed to relieve muscle pain and soreness. Because marijuana topicals do not produce a high, they are usually used for medicinal purposes only.
Unique Cannabis Products in Los Angeles
There are plenty of other ways to use cannabis, even if you don't want to smoke it. You can get weed-based products from topicals to tinctures, oils, drinks, and edibles.
Edible cannabis is its own wonderful world. You can get weed brownies, cookies, chocolate bars, gummies, gum, mints, cooking oils, butter, pizza sauces, potato chips, and popcorn.
The advantage of buying legal cannabis from a dispensary in Los Angeles is that you can see the exact strength and strain. Make sure you check out what's in the product before trying it and, if in doubt, just ask!
Marijuana Tourism in LA
As Los Angeles adjusts to its new status as a destination for legalized marijuana, a growing number of special tours are being offered, paving the way for marijuana tourism in the area.
Marijuana tourism is a new industry for the region, and it follows a path laid out by Colorado, Washington, and Oregon years before recreational marijuana was legalized in California. Let's take a look at what this latest facet of tourism means as the state begins to explore the world of legal marijuana.
It should come as no surprise that the City of Angels provides legal marijuana tours, given the city's ability to transform anything into a tourist attraction. Though the marijuana tourism industry is still in its early stages (it was only recently legalized), there are a few companies that sell everything from cannabis buses that pick up and drop off at airports to munchie crawls. There are even tours that go deeper into the subject.
So, enjoy a trip down Hollywood boulevard. Smoke some Stardawg before seeing your favorite star's Hollywood star. Then catch a classic at the Chinese Theatre after munching some cannabis-infused salted caramel popcorn. LA has everything the weed tourist could possibly want.