Welcome to our Top 10 420 Friendly things to do in Las Vegas list. Las Vegas is the place to be for those who love their cannabis. The Sin City has several ways to enjoy your favorite plant, and we've compiled a list of 10 ideas to keep you entertained! While it is illegal to consume cannabis in public, there are numerous marijuana-friendly activities and places available in the city.
When out shopping the stores look for giveaway contests for free pipes, bongs and swag at local dispensaries or head shops. Be sure to check when your out shopping for products. There are often giveaways on holidays like the 420 holiday.
The High Roller Observation Wheel is one of the best ways to enjoy your "high" after you burned your favorite strain. Having a good buzz can make this experience at 550 feet above the ground an awesome experience, as long as your not to paranoid…lol. At night, you'll get a great view of the Strip lights, and it's worth taking some time out just chillin'.
Top 10 marijuana activities in Las Vegas.
1. Vegas Strip & Fremont Street Experience – While these areas might not be considered "discerning" anymore, they're still worth visiting s top 10 420 friendly things to do in Las Vegas simply because it's the best free show on Earth. There's nothing else like taking in all that neon while looking at old friends from home (aka slot machines). Just remember where you came from and don't leave with more than you arrived with!
2. Las Vegas Marijuana Dispensaries – Las Vegas has several dispensaries that are just waiting to help you pick out the perfect bud for whatever ailment is bothering you. From Sativa to Indica, or even hybrids like Gorilla Glue (yes, it's real), there's something for everyone in Sin City. Just make sure your Drivers license or ID is valid before visiting one of these locations; otherwise, they'll turn you away faster than strip club bouncers at happy hour.
3. Las Vegas Marijuana Tours – There's nothing better than learning about marijuana history while smoking some of today's finest strains on an exciting tour around town.If you want to understand more about how Sin City's favorite plant became banned in the first place, check out excursions like Desert Wind Adventures!
4. Hit Up A Buffet – Las Vegas has a ton of buffets for you to cure your munchies at. Some of the best ones are at; The Winn is the best with an all new eggs Benedict station and a Latin Street Food station among the 16 other tantalizing food kitchens serving up all you can eat dishes fit for a king stoner. Others are at the Wicked Spoon at Cosmopolitan, MGM Grand Buffet and Bacchanal Buffet at Caesars Palace to name just a few.
5. The Cannabis Museum – This small museum is run by the Marijuana Policy Project, fighting for cannabis reform since 1995. It's located right near Las Vegas Hempfest and features several interactive exhibits that should be fun for anyone who loves to learn about marijuana history.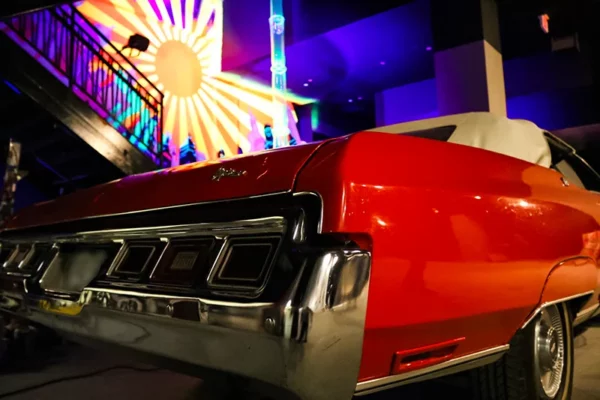 6. Attitude 420 Clothing Store – Not only does this store have some high-quality t-shirts that are perfect for wearing on your next 420 friendly outings in town, but they also sell hemp balls, so you can always smoke what you carry! The owner was recently featured on NPR, so it seems like something worth checking out if you want to support local businesses here in Sin City.
7.Planet 13 Las Vegas – The worlds largest recreational cannabis store is in Las Vegas. At 112,000 sq ft. you can see why it has that title. They have a full cannabis processing plant inside, dispensary and it has the atmosphere of a Planet Hollywood mixed with Hard Rock Cafe combined…. with an eclectic feel and tv screen ceilings. This is a must see for photos and some great cannabis products.
8. Marijuana Bingo – It's like regular bingo except with pot instead! This game has grown more popular than ever since recreational use was legalized in Colorado; now that Nevada allows dispensaries within its borders (and will likely legalize sale), expect big things when it comes to hosting extravagant events like this one.
9. 420 Friendly Hotels in Las Vegas – There are quite a few 420 friendly hotels in Las Vegas. There's a growing list of places that you can find here by searching on our site. These hotels have designated rooms or floors where guests are free to smoke marijuana without getting into trouble! Just be sure to check with your hotel first before blazing anything inside the rooms. Some places do not allow cannabis consumption like hotels with a casino attached, due to gaming laws. So it is worth looking ahead and booking off our site, because getting booted out is the last thing anyone wants when visiting Sin City!
10. Las Vegas Zipline – If you're looking for something a little more active, then try out this zipline that's located right outside of town on Fremont Street. You'll be able to see everything there is from up top, so blaze a bowl before your ride and enjoy the ride up top.
Conclusion
If you're looking to have a good time in Vegas, then try out some of these things that are 420 friendly. Just remember not to bring weed home with you. Hope you enjoined our top 10 420 friendly things to do in Las Vegas list. Enjoy your trip to Las Vegas.